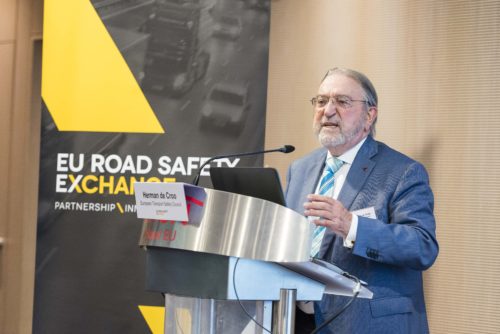 Road Safety, a permanent concern: the European Transport Safety Council (ETSC).
My continuing interest in road safety, naturally, has to do with my past as a minister in charge of that matter. It was in 1981 that in the government of Wilfried Martens (Martens V 1981-1985), I was first entrusted with the authority of "Traffic Management;" also in the subsequent government, Martens VI (1985-1988), I continued to vouch for the "traffic" portfolio. In contrast to today, where the authority "Mobility" has become Flemish matter, a minister of Transport used to have a very broad responsibility. In addition to road safety and mobility, the minister of Transport was not only politically responsible for NMBS, the National Railway Company, but also for urban and regional transport, the companies for intermunicipal transport in Brussels (STIB), Antwerp (MIVA), Liege (STIL), Ghent (MIVG), Charleroi (STIC) and Verviers (STIV).
When the "European Transport Safety Council" was established in 1993 to tackle road safety in a structured way throughout Europe, a chairman with experience was sought who could further expand the institute and open the necessary doors within Europe. It was Karel Van Miert, the European Commissioner at the time, who asked me to become the chairman of ETSC: task that I particularly liked to take on and an unpaid position that I still perform 27 years later.
The ETSC is now working from its secretariat in Brussels on a wide range of safety issues in traffic: alcohol and drugs in traffic, safe traffic infrastructure, safety of vehicles, etc.; and then see these issues transferred into new EU legislation. Given that there are still 25,000 road fatalities on European roads / highways every year, continued commitment of the ETSC is therefore necessary.
Anyone would like to get more information about the ETSC team under the executive director Antonio Avenoso, please visit etsc.eu